Want a safe and reliable family car that's going to take you where you need to go, for less?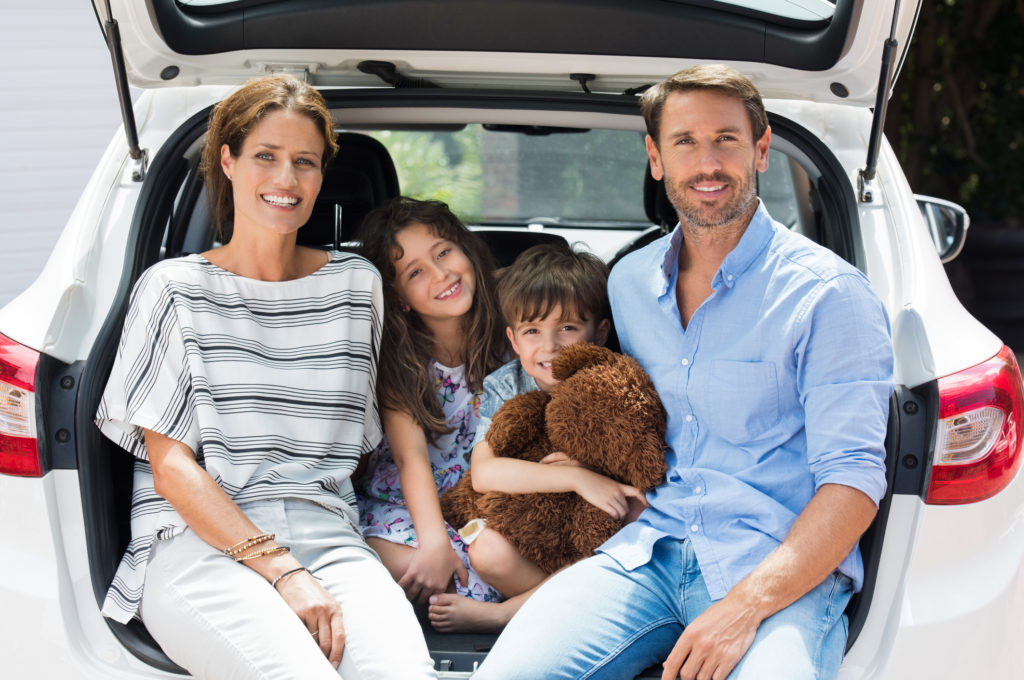 We've compared their MPG, CO2 Emissions and AIR Index Rating – an independent emissions rating for cars from A to E.
Let's take a look at some of the best.
Volkswagen Golf Hatchback
MPG: 57.6 (2019)
CO2 Emissions: 114 g/km (2018 – Petrol)
AIR Index Rating: A (2018 – Petrol)
Expect to pay a little more upfront for this popular hatchback, and more still if you want to benefit from all the features on offer. But you absolutely get what you pay for with a high quality interior and a beautifully refined drive. And with low running costs, you might even save some money in the long term.
This one seems to have been designed with comfortable long journeys in mind. The excellent fuel economy and the solid performance make it a car to depend on. Meanwhile, the insulated interior creates a smooth and quiet ride, so the kids can sleep in the back safe and undisturbed.
Skoda Octavia Hatchback
MPG: 60 to 80 (2019)
CO2 Emissions: from 113g/km (2018)
AIR Index Rating: B (2018)
Lean, green and spacious – there's lots of room on the inside to comfortably fit a full family of five with room to spare for all the essentials of family life in that 590 litre boot. Even the entry-level model is a convenient high-tech wonder, with standard features including air conditioning and a touchscreen entertainment system.
There's a choice of engines, but even the 1.0 litre petrol option combines fine performance with 60mpg. And the diesel GreenLine might be a little loud, but it returns 80mpg, so who's complaining?
Renault Captur
MPG: 70 (2019)
CO2 Emissions: 114 g/km (2017)
AIR Index Rating: A (2017)
A slightly smaller model than the other cars on our list. This supermini-SUV crossover is surprisingly spacious on the inside – if a little noisy.
It's not the most powerful of cars, but it's eminently practical and loaded with useful features. And despite its small size, the inside is positively luxurious with an impressive 455 litre boot. In terms of economy, the entry-level diesel delivers 70mpg, and you can expect reasonably servicing costs along with a three-year, 60,000 mile warranty.
Ford Focus
MPG: 57.6 (2019)
CO2 Emissions: 146 g/km (Petrol 2016)
AIR Index Rating: A (Petrol 2016)
The Ford Focus has been refined again and again since 1998. Now in its fourth generation, there have been significant improvements to cabin space and efficiency.
It's almost as if the Ford Focus has been fine-tuned to fit the specific needs of the modern family. The 375 litre boot isn't as spacious as some of the other cars on our list, but there's plenty of legroom for all passengers. And even if you feel like you're compromising on space, you won't be disappointed with the power and performance. The 1.0 litre EcoBoost combines impressive performance with an economy that won't break the bank.
Kia Ceed Hatchback
MPG: up to 74.3 (2019)
CO2 Emissions: 115 g/km (Petrol – 2017)
AIR Index Rating: A  (Petrol – 2017)
The last word in value for money? It's fun to drive with an impressively luxurious interior, with an excellent economy and extensive safety features in even the most basic of models.
Yes, the choice of engines means that this isn't nearly as powerful and responsive as some of the other models on our list. But with agile handling, firm suspension and up to 74.3mpg, it delivers just the drive you need for a family car – smooth and reliable. The 395 litre boot doesn't hurt, either.
Peugeot 3008
MPG: up to 71 (2019)
CO2 Emissions: 129 g/km
AIR Index Rating: A (Petrol – 2012)
A comfortable and practical SUV that offers more style than almost any other family car on the road. This is a car that looks every bit as good as it drives. Depending on the engine you choose you can get up to 71mpg – astounding for a car of this size – and the spacious interior provides ample legroom and luggage room for all. If safety is your priority, look no further.
The Peugeot 3008 received the full five-star crash test rating from Euro NCAP, as even the basic model is fitted with advanced features including autonomous emergency braking, lane departure warning, stability control and speed limit recognition.
Vauxhall Insignia Grand Sport
MPG: 50.4 (2019)
CO2 Emissions: from 129g/km (2019)
Choose from an estate or a saloon – both offer plenty of space, both are sporty, stylish, and safe. No matter what engine you go for you can look forward to a powerful yet dependable drive with solid handling and an impressive economy.
The entry-level 1.5 140PS returns 50.4mpg with relatively low emissions of 129g/km. Miraculously, these figures are identical for the punchier 165PS model, making it the perfect balance of performance and economy. Yet beneath all the power and style this remains a perfectly practical family car, full of the infotainment and safety features that modern families rely on.
The Best Thing About Economical Family Cars?
These cars are designed to be safe, dependable, and fuel efficient. So economical family cars generally cost less to insure than other flashier models.
We offer competitive comprehensive car insurance policies to fit the needs of any family driver. Head here to find out more.