If your dog could drive, what sort of car would they choose?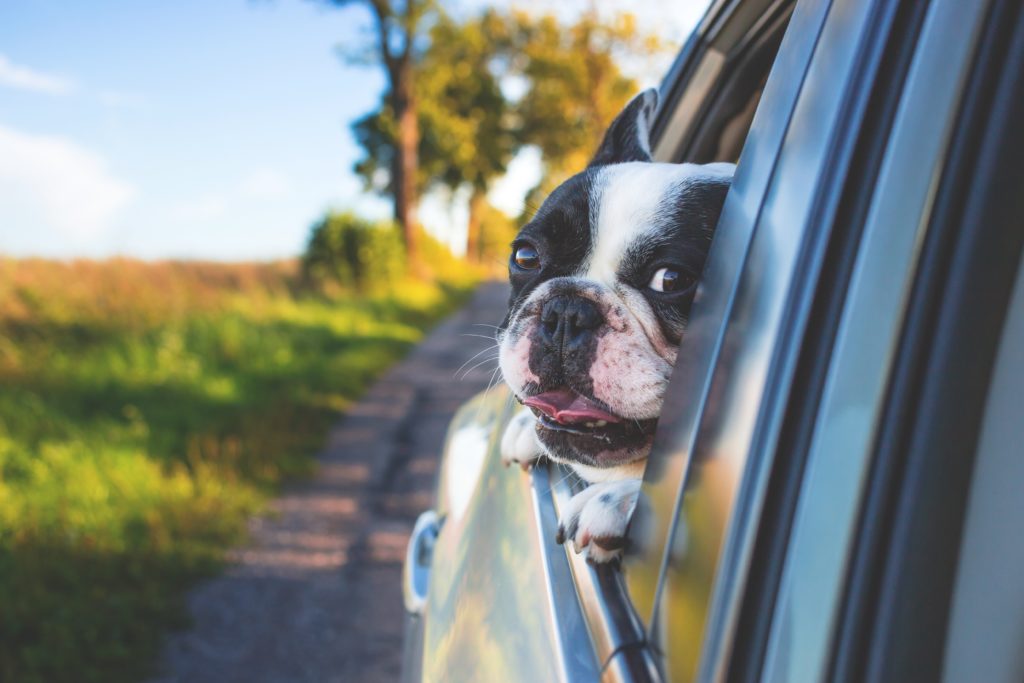 Just like you, they need a car that meets all of their needs. And while their needs probably aren't as complicated as yours, if you intend to drive with your dog, this is something you'll have to think about when choosing your car.
What Should Dog Owners Consider for their Car?
The best cars for dogs will feature:
Lots of space – even small dogs need room! But the bigger your dog, the more space you'll need.
A sizable boot – whether it's for the dog to sit in, or to carry all the things you need to keep them safe, healthy, and happy. Also, the boot can't be too high off the ground, or your dog will struggle to get in and out.
Suspension – The smoother the ride, the less likely your dog will feel carsick!
Good climate control – because you know what happens to dogs in hot cars. A good car for dogs will also have windows that are easy to control from the driving position. You'll be able to safely open them just enough to let air in, but not so much that your dog will be tempted to jump out.
Essential safety features – read our guide to travelling with dogs for an idea of what to look out for. But in short, you need to make sure you can fit a pet harness or a dog grill to your car.
So with all this in mind, what are the best cars for dogs?
Three great cars for dog owners
The Land Rover Discovery
Live the dream – drive off-road to the middle of the countryside to take your dog for a truly epic walk they'll never forget.
A sizable boot? Check. Good suspension? Check. Lots of space? Absolutely. But if you choose one of the HSE trims, you can fold down the rear seats at the touch of a button. You can even use your smartphone to do it. So in a matter of minutes you can make it considerably roomier for your dog. Plus, you'll find loads of storage space for all the essentials of dog ownership, from water bowls to food to toys.
Land Rovers have a reputation for being big and bulky, and the Discovery is certainly both of these things. However, the split tailgate makes it easy for your dog to jump in and out, and for you to lift and lower smaller dogs. Plus, Land Rover offer loads of accessories seemingly designed specifically with dog owners in mind, such as partitions and liners for the boot.
The Volvo V60
If safety is your priority – and why wouldn't it be? – you'll love the Volvo V60. It has a 5-star Euro NCAP Rating in recognition of its many features designed to keep you safe in the event of a crash, while also making accidents less likely in the first place.
And speaking of safety, as we said above, there are many risks to keeping dogs in hot cars. The Volvo V60, though, have separate climate control for the front and the back. You can have your own perfect temperature up front, and you can set the perfect temperature for your dog in the back. This way, they'll neither get too hot in summer or too cold in winter.
Finally, there's the question of space. The V60 is roomy enough to begin with. But if you fold down the rear seats, which you can do electronically, you'll create 1,441 litres of space. Add optional dog barriers and rear tie-downs and you can easily make things positively palatial for your precious pooch.
Citroen C4 Cactus
Finally, if you don't want something as bulky as a Land Rover, or as classy as the V60, the Citroen C4 Cactus is an excellent budget choice. It's safe, it's spacious, but it's a lot more affordable – both upfront and in terms of running costs.
With a 358 litre boot, this probably isn't the best choice if you've got multiple dogs. But if you've just got the one, that's plenty of room. Beyond this, you'll find all the safety features you'd expect to find in a stylish modern car, and your dog will definitely love the panoramic sunroof. And so will you!
One Last Thing to Protect You and Your Dog on the Road
Your dog is a member of your family. There's no question about that. So there's no question that you'd do anything to protect them.
At Go Girl we specialise in insurance for families. We know what you need and we make sure we cover it. Find out more about our car insurance policies and benefits especially for families.