Most people feel shaken after a car accident. This is completely understandable. But it's important that you try and remain calm. Because there's a clear set of steps you should follow after an accident.
If you've just been in an accident, read our complete guide to what to do after an accident.
One very important thing you need to do after an accident is exchange details with any other drivers involved. This is mainly to ensure that any car insurance claims can be settled as quickly and easily as possible.
But in this post we'll explore what you should do if, for whatever reason, you were not able to exchange details.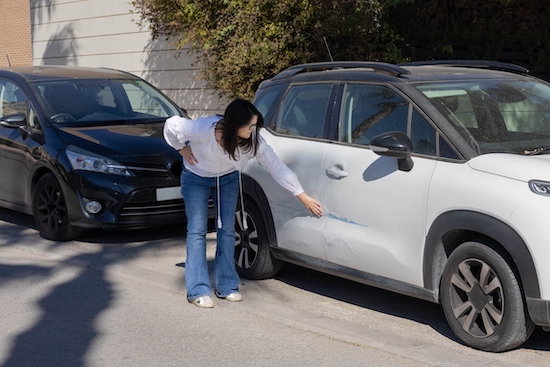 Is It Illegal to Not Exchange Details After an Accident?
Under the Road Traffic Act (1988), you have a legal requirement to give out your name and address to "anyone with reasonable grounds to be asking for those details." That includes any other drivers involved in the accident. And the same laws apply to them.
They have "reasonable grounds" to ask for your details, and you have "reasonable grounds" to ask for theirs. So it's fair to say that it's against the law to not exchange details after an accident if you are able to.
However, it's not always possible to exchange details after an accident. Here are some things that might make exchanging details difficult, or impossible:
Road conditions meant that it wasn't safe to pull-over and get out of your car.
The other driver was angry, confrontational, or outright aggressive.
The other driver drove away after the accident.
Also, not all car accidents are between two or more cars. You might have hit a wall or a fence, for example. In this case, there won't even be a driver with whom to exchange details.
And if you hit a parked car, the other driver might not be in the area. For help with this, read our guide to what to do if you hit a parked car.
You can also read our guide to what you should do if someone hits your parked car, and doesn't leave a note.
Reporting Car Accident to the Police When No Details Exchanged
If you have had an accident with another vehicle and you were unable to exchange details with the other driver, for whatever reason, your first step should be to inform the police. You must do this within 24 hours of the accident occurring. You can call into any police station to do this, but it might be easier to call 101 – the police non-emergency number.
It's against the law to drive off after an accident without stopping. So once you tell the police about the incident, they will make a record and start an investigation. They may eventually be able to gather enough evidence to identify the other driver.
If you damaged property in the accident, rather than another car, telling the police will allow them to make a record of the incident. They'll be able to refer to this when the property's owner eventually gets in touch, which will make it possible to reach a settlement.
NOTE: The Road Traffic Act says that you must also report an incident to the police within 24 hours of the accident even if you were able to exchange details with the other driver. This step just becomes particularly important if you weren't able to exchange details, as in this case the other driver may have broken the law.
What to Do If You Have a Car Accident With No Details Exchanged
The most important thing you should do is inform the police. But here are some other steps you should take, if possible:
Gather as much information as you can about the other vehicle. The registration number will be ideal, as this will allow the police to easily trace the other driver and it will help your insurer to contact the third party and deal with the claim. But any details could help – including the make, model, and colour of the car.
Note as many details of the accident as you can – where it happened, when it happened, and what exactly happened. If it's safe to do so, gather evidence – including photos of any damage to your car or to other property, and any road conditions that might have caused the accident.
If anyone else witnessed the accident, ask for their details. The police may wish to contact them later, and they may be able to corroborate your report, or else to provide details that you might have overlooked.
Should I Tell My Insurer About a Car Accident Where Details Weren't Exchanged?
You should tell your insurer about any accident, no matter how minor. Even if you don't intend to make a claim on your car insurance, you must still tell your insurer.
Any other individuals involved in the accident may choose to make a claim against you. If they do, your insurer will find out that you failed to notify them about the accident.
For more, read our complete guide to reporting accidents to your insurer.
Failing to report an accident is a criminal offence and so is driving uninsured. For total peace of mind, it's vital that you make sure you're covered by adequate car insurance at all times. At Go Girl, we specialise in insurance for young drivers. Find out more about our young driver insurance policies and how we can cover you and your car should the worst happen.