Buying your first used car? Whether you're buying it for yourself or for someone else, there's a lot of pressure in this situation. Things can be stressful enough for first time drivers, so it's important that the car they drive doesn't make things worse.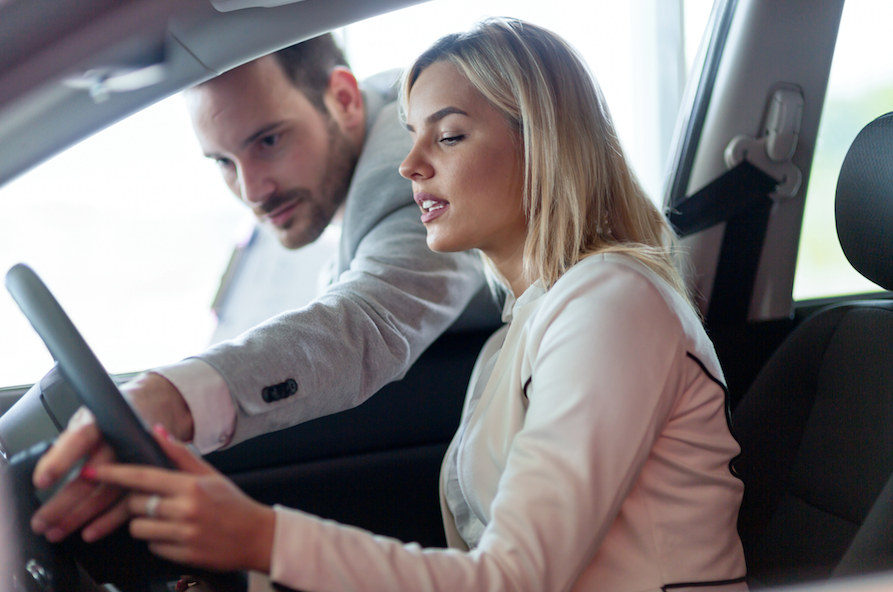 Here's 20 questions to ask when buying a car. Some are questions you should ask sellers or used car dealers, and some are questions that you should ask yourself. In any case, they'll help you narrow down your choices, so you can be sure that the car you buy will be safe, reliable, and roadworthy.
Are the documents all in order?
Any used car you buy will have to have a V5C registration document, otherwise you won't be able to tax it. Ask to see this document, and check if the seller is the registered keeper (if not, they may be selling it for someone else), and make sure all the details match – vehicle identification number, registration plate, engine number, and colour. You can make sure the V5C document is authentic by checking for a watermark. If it's a fake document, it might contain spelling errors, or signs of tampering.
Does the car have a current MOT and service history?
If the car's more than three year's old, you'll need to check if it has a current MOT.  This will give you a good idea of how roadworthy it is, and whether there are any latent issues that might need your attention. If you have the car's registration number, you can check the MOT history of vehicles on the Government's website.  Check that there is a record of the car's service history. This will be kept up to date and stamped when any service takes place.
What's the car's mileage?
The main thing to ask yourself is – is the car's mileage consistent with the age and appearance of the car? If not, it might have been tampered with. You can check a car's recorded mileage history by looking up its MOT history.
Any signs of accident damage?
Check the paint finish across the car. Is it even, or are there any uneven or inconsistent areas? These could indicate extensive repair works, which obviously you'll want to know about.
Are the tyres in good condition?
Check the tread depth by doing the 20p test! If the treads are less than 3mm, the tyres will have to be replaced soon.
Is all the safety equipment intact?
Look for a spare wheel, a jack, and other tools.
Are all the seatbelts working?
Look out for signs of tearing, fraying or twisting, as these could make them less effective.
What about the airbags?
Not all cars are fitted with airbags. So first things first, ask about the airbag situation, then check if the airbag warning lights operate as described in the handbook. In the vast majority of cases, they should come on when you turn the ignition, then go out.
How does the engine sound?
Listen for any abnormal noises, and check the exhaust emissions. If they look particularly noxious, or particularly excessive, then there might be a problem with the engine.
Any issues with the clutch?
If the car's a manual, test the clutch. If you hear a noise when you press the pedal, or if the biting point's a little too high, then it might indicate that the engine will need work soon.
How are the oil levels?
If they're too low, then it might be a sign of neglect, which could indicate that the engine's in worse shape than it seems.
Are all the lights working?
Test the lot, from full beams to fog lights.
What about the wipers?
Take this opportunity to test the windscreen wipers and washers too. Are they working like they should, or are they overly streaky?
Are all the locks working?
It pays to make sure!
Are the windows working?
Also check that all of the windows open and close as normal.
What's the condition of the glass?
There might not be any cracks. But look out for small chips that could become cracks in time.
Have you got all the right keys?
Consult the car's handbook. It'll tell you which keys were provided when the car was new, so you can use it as a sort of inventory.
Do all the systems work properly?
Test all the controls from the driver's seat – heating, air-conditioning, sat-nav, radio, CD etc. Does everything work like you want it to?
Can I take it for a test drive?
This is the big one! If the seller won't let you take the car for a test drive, then they've probably got something to hide, and you should walk away immediately. But if you can take the car for a test drive, you can get a good feel for it, and more importantly, you can test all of the most critical systems – indicators, warning lights, brakes, handbrakes, and steering.
How much does it cost to insure?
If you're buying from a private seller, ask them how much they used to pay for insurance, and ask them whether they knew of any issues that may have affected their premium. Things like a car's safety rating, its size and its age can have an impact on how much you pay for insurance.
These questions should help you to ensure you're not getting ripped off, and that you're getting a car you can rely on. Your next step is to get yourself covered with comprehensive new driver car insurance!