Obviously, you should never use your mobile while driving. It's incredibly dangerous, and it comes with some severe penalties. But that's not to say that your smartphone can't make you a safer driver.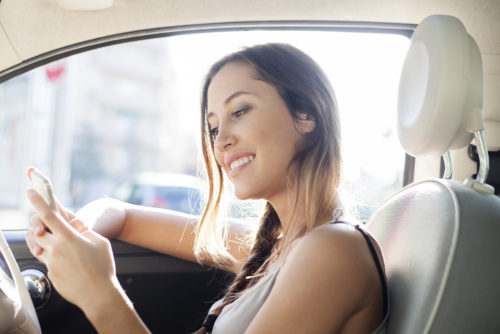 In this post we'll look at the 6 best safe driving apps. Some of these are designed to be used while you're in the car. But their unobtrusive interfaces mean they can be left running without causing any potentially-lethal distractions. And as they can make you a safer driver, they could even help to prevent accidents in the long-term.
Top Apps for Safe Driving
Theory 4 in 1
This one's absolutely indispensable for anyone who's learning to drive, and for any new drivers who want to cement their knowledge of how the roads work.
It features:
Full text of the highway code
Extensive guide to road signs
85 hazard-awareness clips
Hundreds of practice theory questions
Mock theory tests
As well as all of these features, once you've set the date of your test, the app can send you prompts and reminders to help you establish an effective revision timetable.
It costs £4.99, but it's worth every penny. All revision materials are officially licensed by the DVSA, and as the app's regularly updated, you can depend on getting familiar with the very latest in modern driving theory.
Honestly, how did anyone ever learn to drive without this app?
Find out more about Theory 4 in 1.
Drive Safely by Autocillin
This app will evaluate your driving style and your driving habits. It detects:
Rapid acceleration
Harsh braking
Speeding
Mileage
Phone use while driving.
It will give you a score out of 100 for each aspect of safe driving. You can track your progress over time, and it'll let you compare yourself to other drivers on the road.
You'll be able to see the specific areas that need improvement, and working to achieve that perfect score could be just the incentive you need to drive safely. The only downside is that it can be a considerable drain on battery life.
Find out more and download the Drive Safely app here.
LifeSaver
Designed so fleet managers can keep tabs on their drivers, this app will also help you monitor your progress as a new driver.
Using GPS, this app can tell when you're driving, allowing it to:
Automatically lock your phone when it senses that you're on the road (still allowing for hands-free calls and navigation)
Send automated alerts to others once you safely reach your destination (perfect for worried parents)
Provide detailed driver performance reports.
Find out more about LifeSaver and download the app.
Mojo: Rewards for Safe Driving
Road safety isn't a game. But this app sort of makes it feel like one.
The idea is to make safe driving fun. You earn points for driving safely. The more points you earn, the greater your chances of winning cash prizes.
The app will even:
Give you a driving score for distracted driving
Let you invite your friends to join your leaderboard to see which of your friends is the safest driver in any given week
Provide you with tips for less distracted driving
Taking a competitive approach to road safety might seem dubious. But if it works, it works!
Drive Safely by FRUCT
This one's still in development, so hold off on the download for now. But it gives a great idea of how safe driving apps might develop in the near future.
This app literally watches your face while driving so it can:
Recognise signs of drowsiness and distraction
Provide audio and text alerts to prompt you to take a break
Remind you to pay greater attention to a situation
It makes use of all the systems that are already found in many smartphones – the camera, the sensors, the GPS, the accelerometer, the gyroscope, the magnetometer, and the microphone. It's like having a robot sat in the car with you, one who's dedicated to ensuring you reach your destination in one piece.
It sounds like it could be intrusive, but people probably thought the same about sat-navs to begin with. If people can get used to the idea that an app is literally watching their face, it's easy to see how it could help to prevent accidents.
Find out more about Drive Safety by FRUCT – but wait until it gets a full release before you download it!
It Can Wait
This one's terrifying.
Most drivers don't learn about the dangers of distracted driving until it's too late. This 360° accident simulator will show you the effects of texting while driving in stark, horrifying detail. It's scary, yes. But after using it you'll never want to use your smartphone while driving again.
For best results, the app's designed to be experienced in VR. But you can also view it on your phone, or even on your desktop.
Find out more about It Can Wait.
There's No Substitute for Good Behaviour
Apps can make a huge difference, but you should never rely on an app to make you a safer driver. There's no substitute for safe driving habits, and you shouldn't have to rely on an app to tell you when you're driving dangerously.
Plus, to entirely prevent the risk of distraction, it's best to simply ignore your phone completely while you're driving. Turn it off, lock it in your glovebox, or do whatever it takes to remove the temptation to look at it while driving.
Finally, regardless of the apps you use, you'll never be able to account for the behaviour of other drivers on the road. Comprehensive car insurance will cover you for any incident, helping you to drive with total peace of mind.