For many years, it was illegal for learners to drive on the motorway.
But the law changed on Monday 4 June 2018.
Can Learners Drive on the Motorway?
After June 2018, learners could drive on the motorway so long as they are accompanied by an approved driving instructor and they are driving a car fitted with dual controls.
The idea is that it'll help learners build up their confidence behind the wheel through sampling a greater variety of driving experiences.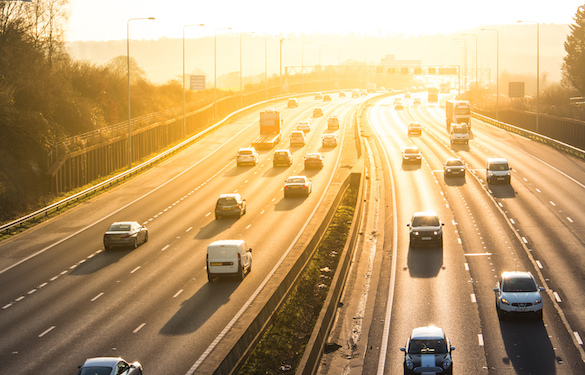 What Roads Can You Drive On While Learning to Drive?
As learners can now drive on the motorway, in theory a provisional licence now allows you to drive on any road in the UK. However, learners can only drive on the motorway during their structured driving lessons with an approved driving instructor.
So long as you have a car to drive and someone to supervise you, you can practice driving outside of your driving lessons.
But as the law says that only approved driving instructors can supervise learners on the motorway, it's unlikely that the friend or family member you find to supervise you will meet this criteria.
The law also says that learners can only drive on the motorway in a car fitted with dual controls. Again, it's unlikely that the car you drive outside of your lessons will have dual controls.
So if you want to practice driving on the motorway before your driving test, it will have to be with your driving instructor during one of your lessons.
Can You Go On The Motorway on a Driving Test?
Motorway driving is not part of the practical driving test. None of the test routes in your area will include any sections of motorway driving. But you may get some questions about motorway driving on your theory test.
Read more about the questions about motorways on the theory test.
You can read a complete guide to the laws for learners on the motorway on the government's website.
How To Practice Driving on the Motorway as a Learner Driver
Motorway driving can be challenging, particularly for nervous or inexperienced drivers. And if motorway driving isn't even part of the practical test, then you might wonder, what's the point?
Fewer things can boost your confidence as a learner driver like driving on the motorway. And the more experience you get before your test, the better prepared you'll be. Even if you know you won't face a motorway on your test, having driven on a motorway will make you feel like a more experienced driver. It can be quite daunting to drive on a motorway for the first time after you pass your driving test, particularly if you are on your own. So getting some motorway experience in a dual control car with your driving instructor is a good idea.
We suggest you talk to your driving instructor. They'll have spent a long time with you in the car, so they'll know about your driving habits. They'll help you decide whether you'd be able to benefit from motorway driving, and they'll probably help you prepare by first taking you on a number of dual carriageways and A-roads.
For more tips and advice, you can read our full guide to motorway driving for learners.
And if you need some learner driver insurance for total peace of mind during your lessons, we've got you covered.