Going away for the first time with your friends?
If every holiday so far has been with your family, then this might be the first time you've ever had to plan things yourself. You'll soon find that there's a lot to think about!
In this post we'll discuss how to plan your first holiday with friends. We'll explore budgeting, transport, accommodation, the best time to travel, and a few other things.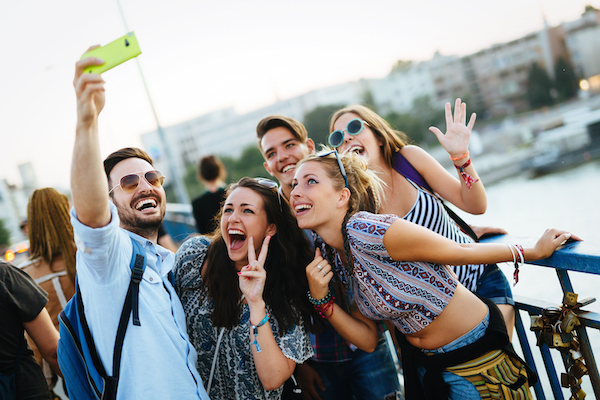 What Age Can You Go On Holiday Without Parents?
There are varying rules for travelling abroad for under-18s depending on which country you're planning to visit. Some may require one of your group to be over 18 and some may require parental permission.
You'll also need to check the rules of the airline you plan on using and your accommodation, as they might have different rules depending on your destination.
If you're planning a UK-based holiday, still check your accommodation or campsite, as they may also have rules preventing groups of under-18s.
How to Plan Your First Holiday with Friends
Get a Group Together
You shouldn't go on holiday with just anyone. Obviously you should only travel with people you get along with. But travel can be very stressful and can put any relationship to the test. Just be prepared to patient with your friends, and with yourself.
You should also travel with people you can depend on as you wouldn't want to make plans with someone who has a history of pulling out of plans at the last minute.
Once you know who you're journeying with, it's time to agree on some fundamentals. The key one is dates and finding a time when everyone can travel. Budget is also important. It's vital that you don't accidentally price out anyone in your group.
It's a good idea to divide tasks among your group. One person could be in charge of transport, another accommodation, and so on.
Meeting regularly before your holiday until you've sorted everything is a good way to make sure you've covered everything. Also start an online group chat, on a platform like WhatsApp, so that everyone can keep each other updated at all times.
How to Set a Holiday Budget
When budgeting for your holiday, remember to account for the following:
Transport
Accommodation
Food and drink – three meals a day for everyone, plus drinks and snacks
Activities
Essentials, including car insurance if you're on a driving holiday, travel documents, etc.
When planning a holiday, a lot of people start with the destination. But if you're going away with your friends, it might be better to think in terms of budget first. If you know how much each person can contribute, it'll help you decide on a destination that works for everyone.
And remember that the longer your holiday, the more money you'll need!
When's The Best Time to Travel?
When it comes to travel, almost everything costs more during school holiday times and in the summer. Places tend to be more crowded in the summer too. Some people head off on holiday after their A Level exams finish and before schools break up for the summer.
If you're planning a beach getaway, you might be able to get a good package deal in the warmer months of the year.
But if you're planning any other kind of trip, it might be best to avoid travelling during the summer. You can still enjoy pretty good weather in the spring and autumn depending on where you want to go.
You should also avoid travelling during Bank Holidays and other major events. If you're heading abroad, make sure your visit doesn't coincide with a public holiday, or you might find yourself short of things to do during your trip!
Places to Holiday in the UK with Friends
You can have just as wonderful a time with your friends holidaying in the UK as you can heading overseas. You could hire a cottage or apartment by the sea or have a nice city break. And it can be much simpler. Holidaying abroad can be a bit more complicated than staying in the UK.
There are many beautiful things to see in the UK. But there's a whole world out there too.
What You'll Need to Holiday Abroad without Parents
First, you'll have to ensure that everyone's passport is up to date and you may also have to apply for a Global or European Health Insurance Card (GHIC or EHIC).
Second, you'll need to check travel requirements to your destination to make sure you're old enough or if there's any reason you may not be able to travel there, such as previous convictions.
Third, you'll need to make sure your airline and accommodation will also accept your group of friends. Usually restrictions will be due to age but you also may find single-sex groups are not allowed in some hotels.
You may want to avoid flying and be looking at driving abroad to a holiday destination such as France or Spain. This can help keep the costs down from flying but remember to make sure you have cover on your car insurance for driving aboard. Make sure you also read our guide to driving in Europe after Brexit.
Organisation Transport
Getting there's half the fun!
So they say.
If you're just heading to one destination, then you may only need to sort two trips – the journey there, and the journey back. But if you're planning on travelling, then you may need to sort many different journeys between many different places. And that's when things can get complicated.
Be prepared to make a lot of notes. Check and double check all times, to ensure you can make any connections. Remember to account for time differences if you're heading abroad.
You can often save money on travel by booking early and late flights. But these can be a pain to catch, and they can really eat into your available time.
There are many tools and resources to help you coordinate your transport while finding the best price:
If you buy a package holiday you may find that your transfers to your accommodation from the airport are included and all sorted for you. This could help make a first holiday even more stress free.
Accommodation
Do you want to stay somewhere where you and your friends can hang out, and spend a lot of time together? You could look at booking a hostel, or specialist holiday accommodation such as a converted barn or rent a holiday home.
But if you'd all prefer a little privacy and a bit of your own space then you could choose a hotel, or holiday apartments with private rooms. Just be aware that this could increase the cost of your trip!
Or maybe you're planning a camping trip? In which case, you'll just have to book pitches at a campsite. But then you'll have a lot more things to think about when it comes to packing. We have an essential festival checklist that doubles as an essential camping checklist!
These tools and resources will help you find a good deal on accommodation that works for everyone:
Again, remember to check any accommodation rules on group sizes, types and ages to avoid any nasty surprises when you turn up.
Planning a Road Trip?
Do you plan on making your first holiday with friends a road trip?
If so, we've got your car insurance covered!
Head here to read our guide to the best road trips in the UK.
You may also want to consider adding breakdown cover to your young driver insurance which will give you total peace of mind, leaving you free to focus on having the time of your life with your best friends. Get a quote and instant cover online in minutes.