Packing for a weekend camping is difficult enough. Packing for a festival is an entirely different story!
Festival campsites will have far fewer facilities than any other campsite you may have been to. Plus, you're likely to be making the most of your festival too so you'll be more tired than you've ever been before.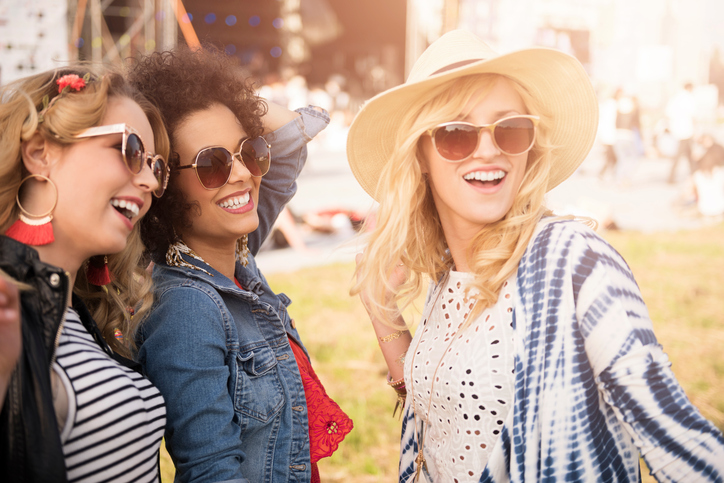 Make sure you don't forget these 27 essential items. Or for something more substantial see our ultimate packing checklist.
1: Anti-bacterial hand gel
Trust us, it's a life saver. It will usually be provided near the toilets on site but after a few days you'll certainly be wanting your own. Take a couple of small bottles in case you mislay one.
2: Baby wipes
As any new mother will tell you, they can be used to clean anything! They're great for cleaning food or mud of clothes as well as giving yourself a 'dry shower' experience.
3: Clothes
Hardly something you'll forget but they are essential. Try to take enough for everyday plus some extras (and a clean outfit for your journey home). To reduce the load, try bringing some items that you can mix and match for new outfits.
4: Ear plugs and eye masks
If you're planning on camping by a main stage or in a popular campsite, these will be a definite festival essential. It's likely that lights will beam through your tent and your neighbours will not go to sleep when you want them to. Even if you are away from main stage lighting, the sun will start creeping in around 4am so be sure to block it out to get a couple of extra hours in.
5: Fancy dress
A festival isn't a festival without fancy dress. Try to co-ordinate with your group beforehand for a truly remarkable collective outfit.
6: Food
Even if you bring along some cash for the food stalls, you'll be amazed at how much energy you will expend throughout the weekend, so it's always good to bring some back ups to keep your hunger at bay. Try breakfast bars and crisps for light weight and energy-rich food sources.
7: Glitter
Glitter is a fashion essential this year. Whether you're planning to give yourself glitter roots or glitter make up, make sure you've got lots of colours, shapes and sizes. Don't forget glitter face glue and hairspray too if you actually want it to stick!
8: Hair bands and clips
As the days go on, you'll see all sorts of inspiration from festival fashionistas so make sure you bring along enough hair accessories to change up your style.
9: Hand-held mirror
Your mirror will be an essential for perfecting your festival look, as well as making sure you've successfully removed all your face paint before bed. Check the rules though, some festivals are no long allowing mirrors.
10: Hand warmers
For those cold nights, whether you're trying to sleep or you're up watching the sunset a hand warmer in your pocket will do you a world of good! If you get ones that re-set in boiling water, you can even get them ready for re-use with your camping kettle.
11: ID
Don't forget your ID. It's as simple as that. You might need it for buying drinks or even to help with entry. Some festivals use photos on tickets and if yours is a little old, a photo ID might help your case.
12: Money & cards
Even if you blew your whole budget on your ticket, it's still advisable to bring some money or a card with you in case of emergencies. If your tent leaks or you really need a hot meal, make sure you've got the means to pay for it. Many festivals have areas where you can lock up your valuable items to pick up later, this can be perfect if you don't want to carry around cash or your cards with you.
13: 'Must see' list
With the best intentions in the world, you're not going to see everything you're interested in. You could spend days making elaborate plans but they can fall apart easily. Once you're there, the reality of dashing across the festival for a 45 minute set only to come back again might seem less appealing. Your friends might also have other ideas.
Before going, make a list of up to 5 'must sees'. You might only have one. This will keep you focused so you don't miss your real highlights. Who were you listening to on the way to the festival? Who have you wanted to see for years? These should be the bands you would go to even if everyone else refused to come with you.
14: Phone and charger pack
If you want to meet up with anyone, a phone is a must. Most festivals offer phone charging services but the queues are usually long and it can get expensive.
15: Plasters
You don't want your festival ruined by a blister. Bring a number of different shaped plasters or even gel packs to soothe painful feet. These are especially important if you're bringing along a new pair of wellies!
16: Quick dry towel
Quick dry towels are usually compact, light and (as you'd expect) dry quickly. They are perfect for festivals. You can fit them in your bag easily and you can dry off from an unexpected shower.
17: Statement wellies
No festival is complete without wellies, the brighter and bolder the better. Even if it's raining, your statement wellies will put a smile on your face.
18: Sun cream
We can only hope! Even so, even if sun seems like a longshot, shade can be hard to come by so make sure your protect yourself.
19: Sunglasses
If it's sunny or not, sunglasses are the perfect festival accessory. Cat-eye and round-framed sunglasses are the height of festival fashion this year.
20: Tent & sleeping bag
Clearly these are festival essentials – but what's even more essential is that you can put the tent up and you can carry them both! A large, single-roomed 8-man luxury tent might seem like a great idea but if it's too heavy to carry and you'll be putting it up for hours then it's hardly worth it.
21: Ticket
It goes without saying, don't forget your ticket. Many festivals will not replace a lost ticket either, so once you have it, keep it somewhere safe.
22: Toilet roll
You should be able to buy it on site, but you'll get a much better deal in a supermarket so try to bring some with you.
23: Toothbrush and toothpaste plus cover
Bring a cover for your toothbrush so you don't end up with a mud-soaked toothbrush.
24: Torch
A couple of torches are always advisable. A wind-up torch can be a great option if you're worried about running out of batteries.
25: A warm, knitted poncho (or just a jumper)
A warm jumper will do for the cold nights, but why not truly embrace the festival spirit with a warm poncho. It can even double-up as a blanket on cold nights.
26: Water bottles
Bring a few! Different sizes and shapes will suit different uses. There are a number of fold-able water bottles which pack away easily, or a large 5 litre empty bottle from the supermarket can easily be attached to the outside of your bag.
27: Wonderful waterproof jacket
There are so many waterproofs available – so go for it this year! Whether it's patterned, multi-coloured or gold, make sure you stand out this summer.
These are 27 essential items to make your festival the best it can be. But don't forget to check out our ultimate festival packing list for more tips and advice.
If you've yet to find your perfect festival this summer, or you think you've got another one in you check out our Festival Map of the UK to find some that might be right on your doorstep.