As there's no need to worry about booking expensive flights or connections, driving holidays can be a lot more affordable than other types of trips. They can be a lot more interesting too – you'll travel slowly and at ground level, so you'll see parts of countries you wouldn't see from a train or a plane. Plus, you'll be totally in charge of where you go and how you get there, which means that driving holidays can be a lot more flexible than most holidays too.
In this post, we'll share some essential tips for planning a driving holiday, to help you plan a trip that'll work for everyone.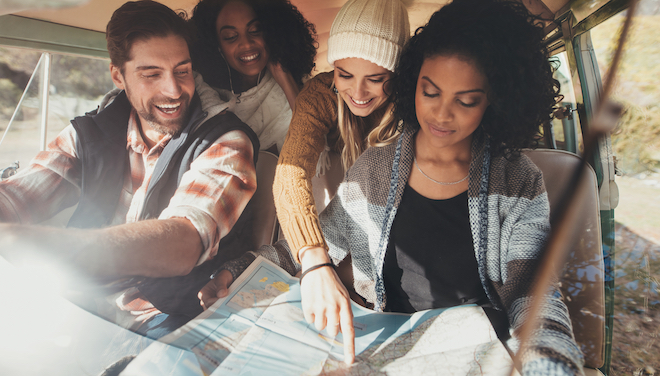 How to Plan a UK Driving Holiday
The first thing to think about is, where are you going to go? You could choose a single destination with some stops along the way, or you could plan a longer journey with a number of stops. For some inspiration, take a look at our guide to the best UK road trips.
Some General Tips To Help You Make the Most of Your UK Driving Holiday
Plan Your Stops In Advance – Set yourself an itinerary for each day of your trip. For each day of your trip, plan some stops for food, some areas of interest, and an end destination, where you'll spend the night.
Think About Accommodation – Camping is the cheapest form of accommodation. But after a long day's driving, you might prefer a comfy bed. The important thing is that you book all of your accommodation in advance, to save you from driving around looking for somewhere with vacancies.
Be Fuel Smart – When planning your route, also try and work out when and where you'll be stopping to recharge or top up your fuel. Understanding the fuel consumption of your car or electric mile capability will help here. If you're going to be splitting the cost of fuel with your co-travellers, read our guide to calculating petrol money here.
Food and Drink – Packing your own food and drink – whether it's snacks for the road or full meals – will save you a lot of money. But you may get bored of crisps and sandwiches every day. So make sure you plan and budget for a few nicer meals throughout your trip too.
Road Safety – Get your car serviced before you set out, to ensure that everything's working like it should. Never drive for more than two hours without taking a break, or you could get too tired. And if possible, split the driving duties with others. Just remember that anyone who drives your car will need adequate car insurance
Planning a European Driving Holiday
Since the UK left the EU, driving on the continent has been a little more complicated than it used to be. Read our full guide to driving in Europe after Brexit. It covers:
The documents and permits you'll need.
Rules for taking pets with you.
Advice for what to do in the event of an accident.
As well as ensuring that your existing car insurance policy covers you for driving in Europe, you might also want to consider getting European Breakdown cover for your continental road trip. This will provide essential assistance should your car breakdown on the continent. Many breakdown companies now provide a translation service.  So if you breakdown in a European country, language shouldn't be a barrier to you getting the help you need.
Driving an Electric?
If you're using an electric or a hybrid car for your driving holiday, make sure you familiarise yourself with the available electric charging points along your route.
Driving With Kids?
If your kids will be joining you on your driving holiday, you'll probably have to make some additional preparations when packing and planning.
We've got a few guides that might come in handy here:
Make Sure You're Covered!
Whether you're planning a driving holiday in the UK or abroad, it's important to be prepared for anything. Careful planning can make a huge difference, but you should still expect the unexpected. Check your car insurance policy includes cover for driving in Europe.
Our comprehensive car insurance policies provide the compulsory minimum insurance required for your car in any member country of the EU. Find out more in our policy wording. And by adding European breakdown cover to your car insurance it will give you total peace of mind that, no matter what happens on the road, you'll be covered.
Comprehensive car insurance – don't leave home without it! Get in touch for a free quote today.