April is Stress Awareness Month, and with exam season fast approaching, many students will soon start to feel the pressure.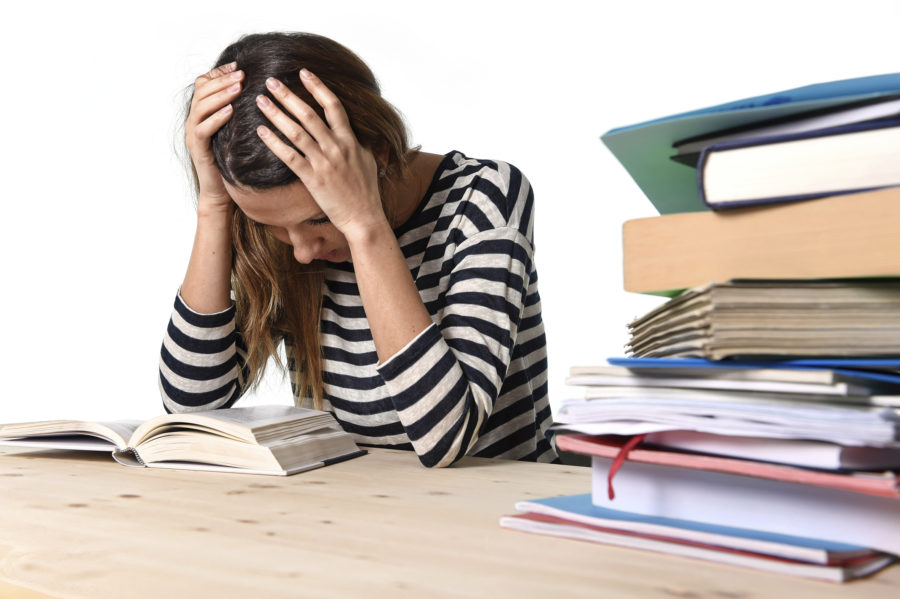 In the short term, stress can make you cranky and unproductive. But in the long term it can lead to all manner of serious health problems. Your exams are important, but so is your health!
So here's some tips for coping with exam stress.
1) Make a plan and stick to it
In the run up to exam season, take the time to make yourself a revision timetable.
A good revision timetable will give you enough time to prepare for every forthcoming exam while still giving you plenty of you-time. Your aim isn't to fill every available hour with revision. It's to get a good work/life balance, with plenty of time for socialising, and to ensure that all of your study sessions are as productive as possible.
Here's a short guide to preparing the perfect revision timetable.
2) Sleep well
You might be tempted to pull an all-nighter, but lack of sleep makes everything worse. It makes you stressed and irritable. It'll make your revision less effective, and if you do any driving during your exam period, it may increase your chances of being involved in an accident.
So aim for a full eight hours of sleep a night.
3) Eat well, drink well
Avoid those sugary energy drinks, and don't overdo it on the coffee. Too much sugar and caffeine will make your stress much worse. Instead, drink lots of water and the occasional cup of soothing, revitalising herbal tea.
In terms of food, avoid the processed fast food and instead go for natural ingredients and plenty of fresh fruit and vegetables. Preparing a nourishing meal for yourself is good for two things: It'll help you to cope with the stress while giving you some essential exam fuel!
4) Get some exercise
Exercise releases endorphins, your brain's natural stress-battling hormones. It's good for the mind as well as the body, so include regular exercise sessions in your revision timetable. As well as helping you to manage your exam stress, they'll also make your study sessions more effective through helping you to stay calm and focussed.
5) Get close to nature
Fresh air and nature are proven to help with stress. So here's an idea: After an hour or two of revising, go for a brisk walk in your local park. The combination of the fresh air, the exercise, and the greenery will make you feel fantastic.
It also helps to bring the outside inside. Add some plants and flowers to your study space – you'll be amazed at how much the little things help.
6) Avoid stressful situations
You've got enough on your plate, so don't give yourself anything else to worry about.
For example, if you're currently learning to drive, wait until your exams are over before you take your test.
7) Make time for friends and family
Talk to people. Spend time with the ones you love. You don't even have to discuss your exams, but any time spent socialising will bring you out of your shell and help you to stay calm and focused.
And remember: All of your friends at university are in the same boat as you. So why not study together? Your revision sessions might be more enjoyable and productive if you do them together.
8) Talk to the people who are there to help
If exam stress is really getting to you, you're not alone. Talk to your tutor or your supervisor – that's what they're there for! They'll be able to offer all the advice, guidance and reassurance you need. You'll also find plenty of resources for coping with exam stress at your students' union. For instance, many universities offer free counselling sessions.
9) Give yourself something to look forward to
Exam season is stressful, but it will end. Why not plan a treat for yourself when it's all over? If you give yourself something concrete to look forward to, you'll have something to focus on and aim for throughout your study sessions.
It doesn't have to be anything big. An all-expenses paid trip to Barbados would be nice, but something as simple as a road trip with friends will work just as well.
Take a look at our list of the top seven road trips in the UK and give yourself something to look forward to!
10) Don't forget…
Exams can always be re-taken.
That's why your number one priority throughout exam season should be YOU!
So take care of yourself, get plenty of sleep, exercise in fresh air, and talk to people. It'll be good for your stress in the short term and great for your health in the long term.
While you're here…
We're all about offering peace of mind for students. Take a look at our student car insurance and give yourself one less thing to worry about.