In this post, we'll outline the 5 different types of traffic signs and we will focus on how to spot those that give orders. We'll also take a look at some of the relevant theory test questions you may get and how to help you get it right every time.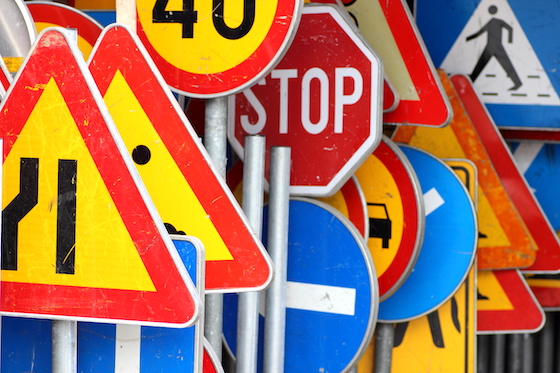 The Different Types of Traffic Signs
The Highway Code lists five different types of traffic signs:
Signs giving orders.
Warning signs.
Direction signs.
Information signs.
Road work signs.
Traffic Signs Giving Orders
The most important traffic signs that give orders are circular with a red circle. These are mostly prohibitive, such as signs that indicate the speed limit in an area. These feature a number in bold black letters – 20, 30, 40, 50 etc. – in a red circle.
Other traffic signs of this type that give orders include:
Hand-held school crossing "lollipop" signs.
The no-entry sign, which is a bold white horizontal line in a red circle.
Signs indicating specific types of restricted traffic. This could include bicycles, motor vehicles, buses, and towed caravans.
The "no waiting" and "no stopping" signs – these have red borders containing a blue circle that are either crossed out with a single or a double red diagonal line.
Signs indicating specific local restrictions. This might include the "no overtaking" sign (a black car and a red car side by side), and signs listing certain vehicle height, width, and weight restrictions. There are also signs indicating that no left-, right-, or U-turns are allowed in an area.
These are the "traffic signs giving orders" referred to in the test. So, the answer the theory test is looking for is always circular with a red border.
You might get a question like this on your Driving Theory Test:
How Can You Identify Traffic Signs That Give Orders?
Rectangular with a yellow border.
Triangular with a blue border.
Square with a brown border.
Circular with a red border.
The answer they're looking for is number 4: Traffic signs that give orders are circular with a red border. 
Take Care With This Question!
There are also other types of road signs that are there to give orders. These include the triangular "give way" sign, and the big red "stop" sign, which is sometimes an octagon. Then there are the signs that give "positive" instructions. These include signs with blue circles but no red borders, which usually tell you the direction of traffic on a road.
Confusingly,  this question might be used on some mock Driving Theory Tests with optional answers that are arguably true, but which are not the answers they're looking for.
An example has been seen  that allowed you to choose between "triangular with a red border" and "circular with a red border". Technically, both of these are correct. The "give way" sign is triangular with a red border, and that sign certainly exists to give orders.
But the "right" answer will always be "circular with a red border", no matter what other options you get. So if you get this question on your Theory Test, take care!
Further Support For Your Theory Test
You'll find many resources on our site to help you prepare for your Theory Test:
Learner Driver Car Insurance
If you want to build up experience as a learner beyond your structured driving lessons, you'll need someone to supervise you. You'll also need provisional car insurance to cover you.
At Go Girl, we offer specialist learner driver insurance. We'll give you all the cover you need at a price you can afford. Then, once you've passed your test, you can simply change your policy and immediately start building up a no claims discount. Get a quote and instant cover online in minutes.